Pompey Park is named after long-time Delray Beach resident C. Spencer Pompey and covers 17.5 acres of land. Adjacent to the recreation center is the Pompey Park Pool with both swimming and wading pools.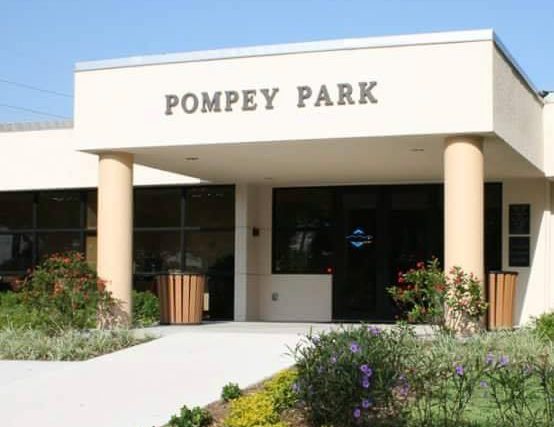 Pompey Park Amenities Include
Gymnasium
Auditorium with a Stage
Full Kitchen
Indoor and Outdoor Basketball Courts
Baseball
Lighted Pitching and Batting Cages
Outdoor Lighted Tennis Courts
Outdoor Lighted Racquetball Courts
Playground
Conference Room/Meeting Rooms
TV/Lounge area
Recreational Programs Include
Youth Team Sports
Tee Ball/Youth Baseball
Adult Athletic Leagues
Step & Dance Teams
Karate/Martial Arts
Instructional Classes
Pickleball
Football & Cheer Camp
Diaper Sports (Ages 2 – 5 years)
Senior Club
Open Gym
PARK HISTORY
Pompey Park Recreational Center has provided recreational resources, senior programs, after-school programs, summer camp, holiday camp, and other school‐age programming for the surrounding neighborhood since its construction in the 1950s. An estimated 150,000 people utilize the building each year, while more than 40 organizations and civic groups utilize it monthly.
PRIOR RENOVATIONS
Previous improvements were made to the Pompey Park Recreation Center including, renovations to the locker room, the construction of two meeting rooms, two offices, a television room with a 35-inch TV, a large storage area, and a new entrance with a sitting area. Additionally, the auditorium was renovated to include upgrades to the audio-visual system, flooring, kitchen and bathrooms.
2007-2008
Auditorium renovations including a new audio-visual system, new flooring, and upgrades to the kitchen and bathrooms
2007-2008
New construction including two meeting rooms, two offices, a television room , a large storage area, and a new entrance with a sitting area